Eva Palace Body & Soul Elixirs
Specially designed extended programmes for a truly uncommon experience and pampering in exclusive settings. They offer both ancient and modern techniques to relieve body and soul.

ELIXIR OF LIFE, 1 HOUR & 20΄/110€
Restoring body energy, balancing body aura, revitalising, detoxifying, combats cellulite and obesity, speeds up metabolic rate, improves skin firmness. An alchemist's secret from Antiquity, which blends the four elements of life: water, air, earth & fire. The best-known goal of the alchemists was the transmutation of common metals into gold. This exclusive skin therapy harnesses nature's most luxurious element GOLD and the delicate scents of wildflowers from the plains and desert with incredible revitalizing effects that rejuvenate skin and boost vitality. Let skin pores open up in the sauna and prepare body and mind for the ultimate pampering that follows. Sink into the deep hydrotherapy tub. While dozens of waters jets stream pressurized water to specific problems areas. A gentle body exfoliation using the healing power of gold, minerals, artemissia and passion flower to leave the body glowing. Smoothness, suppleness and body energy are restored with the application of a rich body mask. Finish with a light massage with replenishing golden powder and body cream for deep moisturizing, while sipping the Potion of Life!
ANCIENT SPIRIT ELIXIR, 1 HOUR & 20΄/120€
Slimming, body toning, combats cellulite and obesity, revitalising, increases metabolic rate. This divine full-body Elixir was inspired by ancient beauty secrets. Relax body and mind in the sauna to open the pores. Sturgeon caviar is the secret ingredient in the scrub applied to exfoliate and cleanse your skin. After an invigorating jet shower, the ultra-moisturizing caviar body mask enriched with sea minerals tones and firms skin, leaving it smooth and radiant. A rich full body envelopment with caviar essential oils follows to restore your pH balance and deeply recondition your skin. Caviar stimulates the regeneration of the skin. It possesses antioxidant properties and protects again harmful UV damage.
EVA PALACE BODY ELIXIR, 60΄/110€
Detoxifies, combats cellulite and obesity, revitalises, moisturises, tones and firms the skin, speeds up metabolic rate, anti-stress. This programme is wonderful for removing dead skin cells plus incredible mind-body effects, which will leave you invigorated and revitalized from head to toe. A short session in the sauna will prepare you for the ultimate pampering treatment. a gentle body exfoliator active ingredients starts the purification process followed by a Dead sea mud body mask. Let your skin absorb all the vitamins and minerals, boosting cell regeneration, whilst you are cocooned in a comforting wrap. Following the sea polish, indulge in a relaxing aroma massage. The unique aromas envelop your body in a fresh, light scent while they relax your mind and restore your skin with lasting hydration.
Thalassotherapy
SEAMUD WRAP 30΄/40€
A full body sea mud wrap with mud that helps the nourishing elements penetrate the skin. Sea mud wraps improve skin tone and relieve sore muscles and joints.
SEAWEED WRAP 30΄/40€
Mineral-rich seaweed is applied in a body wrap in a special treatment that has proved effective in aiding weight loss, toning and firming tissue and fighting stress. This treatment is especially effective in helping get rid of cellulite.
HYDROTHERAPY 30΄/40€
Dozens of waters jets stream pressurized water throughout the body. Sink into the deep hydrotherapy tub and enjoy the effects of the aromatic bath salts and essential oils. This treatment tones and firms, and is especially effective in aiding weight loss, improving circulation, and combating cellulite.
Book Online
or Call +30 26610 90003
♥ Love Potion
An absolutely sensual ritual for two to tantalize & delight!Share an unforgettable experience with your partner.
READ MORE
---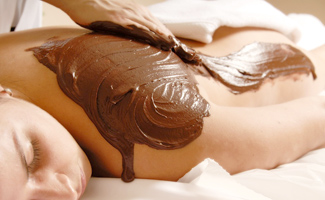 Hot Chocolate
A unique nourishing, stress-reducing body and facial treatment performed with chocolate to invigorate and revitalize you from head to toe.
Chocolate is an antidote for premature ageing and leaves your skin smooth and replenished
.
---
also check
Eva Palace Massage & Therapies