Eva Palace Massage & Therapies
ELIXIR AROMA MASSAGE, 50΄/80€
Light body-brushing performed with pure essential oil used as a natural exfoliating scrub. The total body massage that follows concentrates on soothing away tiredness, stress and alleviating tension, inducing relaxation to the body and mind.
PARADISE MASSAGE, 60΄/85€
This treatment, inspired by the grooming rituals of the Classical-era beauties, consists of a total body aromatherapy, a drainage massage, head and face massage, reflexology on feet/hands/ears, and Shiatsu.
AROMA MASSAGE, 50΄/75€
A body treatment using essential oils made from plant and herb extracts. The oils have either stimulating or relaxing properties chosen to suit individual needs. The aroma from the oils has a therapeutic effect, inducing a feeling of well being.
RELAX MASSAGE, 30΄/50€ - 50΄/70€
Body massage performed with special combination of calming oils for relaxing and de-stressing. This wonderful soothing treatment has amazing relaxation and serenity properties and improves the nervous system.
HEAD & FACE MASSAGE, 20΄/50€
This relaxing massage performed with warm essential oils on the pressure points of the neck, scalp, ears and face concentrates on soothing away tiredness, stress and tension. A wonderful treatment for headaches, stiff and tired muscles as well as obtaining harmony to body and mind.
DEEP TISSUE MASSAGE 60΄/120€
Relieves stress that causes muscle tension. This amazing therapy rejuvenates the body by using deep pressure massage – no wonder it's the favorite massage in the best spas worldwide! Deep muscle groups are massaged using fingers, fists, forearms or elbows. The result is complete rejuvenation, toning and relaxation that relieve pain, reduce stress and fight inflammation by improving posture and sleep quality.
SPECIAL THERAPIES
(FREE USE OF SAUNA)
CHOCOLATE SYMPHONY 60 '/110 €
A unique nourishing, stress-reducing body treatment. Performed with chocolate to invigorate and revitalize you. Chocolate, an antidote for premature ageing, leaves your skin smooth and replenished.
SPECIAL CAVIAR THERAPY 1 HOUR & 20΄/120€
The extract of caviar is the secret ingredient in this ultra nourishing, deep moisturizing body treatment that tones and firms the skin, leaving it smooth and radiant. Reduces cellulite and activates metabolism. Nutrientrich caviar has a cell format similar to human skin so that the vitamins and minerals are easily absorbed, enhancing cell regeneration.
LAP OF LUXURY SEA SCRUB 40'/60€
This sensorial experience will wrap your whole body into softness and silkiness. Enriched with essential oils, this pleasant care begins with a complete body scrub to get rid of dead cells and smooth the skin, and will gently end will with the application of a rich body milk to leave your skin luminous and velvety. Skin is renewed and more beautiful.
Special Packages


ALL DAY TOTAL RELAX 2,5 HOURS 230 €
• 10' Body Scrub • 20' Body mask • 30' Body relax Massage • 20' Head relax Massage • 60' Facial Treatment • 15' Eye Brow Shape


MEN'S GETAWAY 2 HOURS 160 €
• 20' Body Scrub • 60' aroma Massage • 40' Facial Treatment



Beauty Salon

• Manicure 30'/30€ • Pedicure 40'/40€ • Shellac Manicure 40'/40€ • Shellac Pedicure 60'/50€ • Spa Manicure 45'/40€ • Spa Pedicure 55'/50€


WAXING
• Face 10'/10€ • Legs and Bikini, 45'/45€ • Lower legs 20'/30€ • Underarms or bikini 15'/20€ • Eyebrow shaping, 15'/10€
Book Online
or Call +30 26610 90003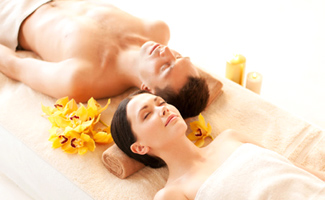 ♥ Love Potion
An absolutely sensual ritual for two to tantalize & delight! Share an unforgettable experience with your partner.
READ MORE
---
---
also check
Eva Palace For Two ♥